HEisMy Relaxation | Tropical Fruit Flavored Powder (60 Servings)
Regular price
Sale price
$35.00 USD
Unit price
per
Sale
Sold out
Share
View full details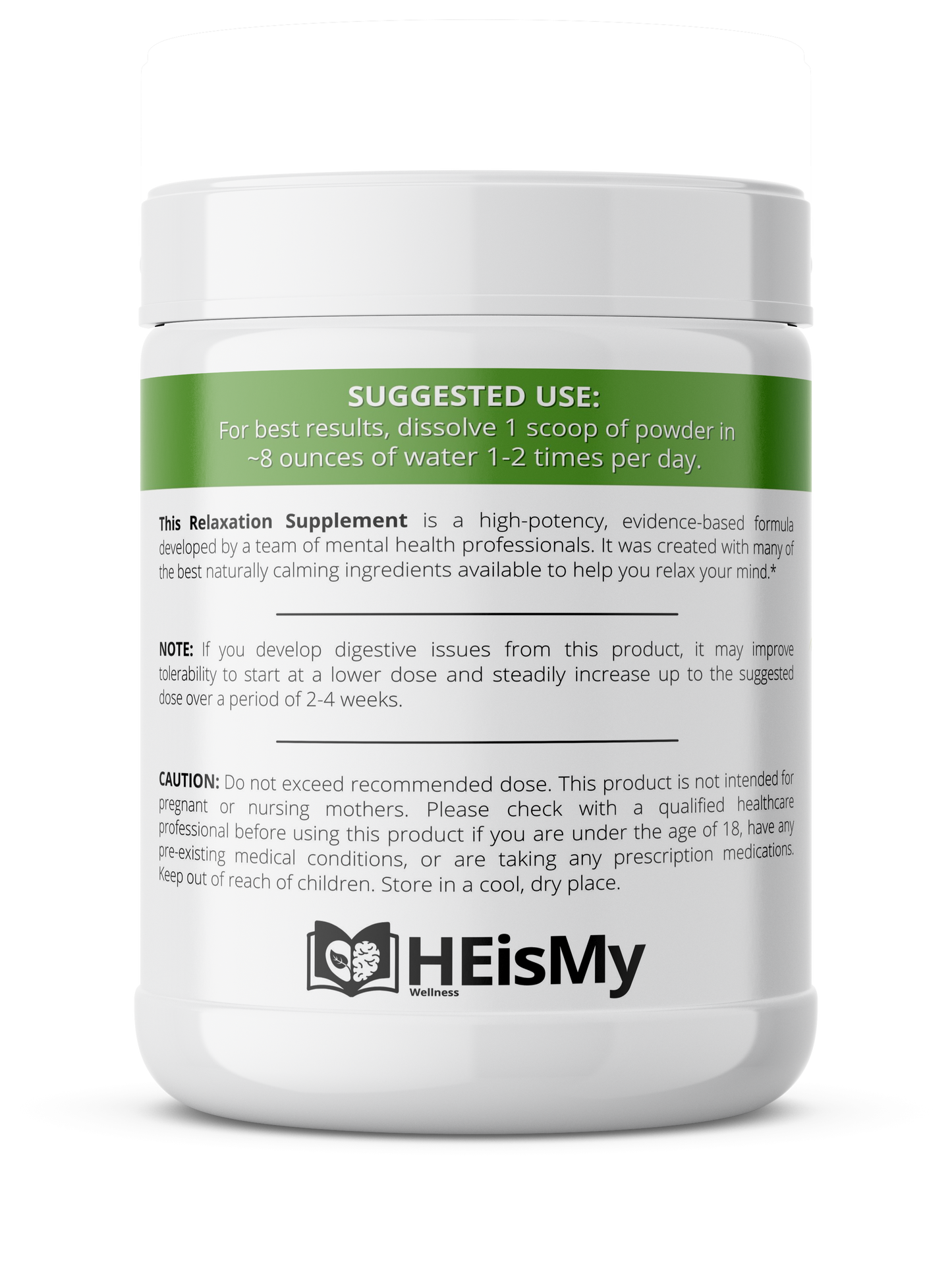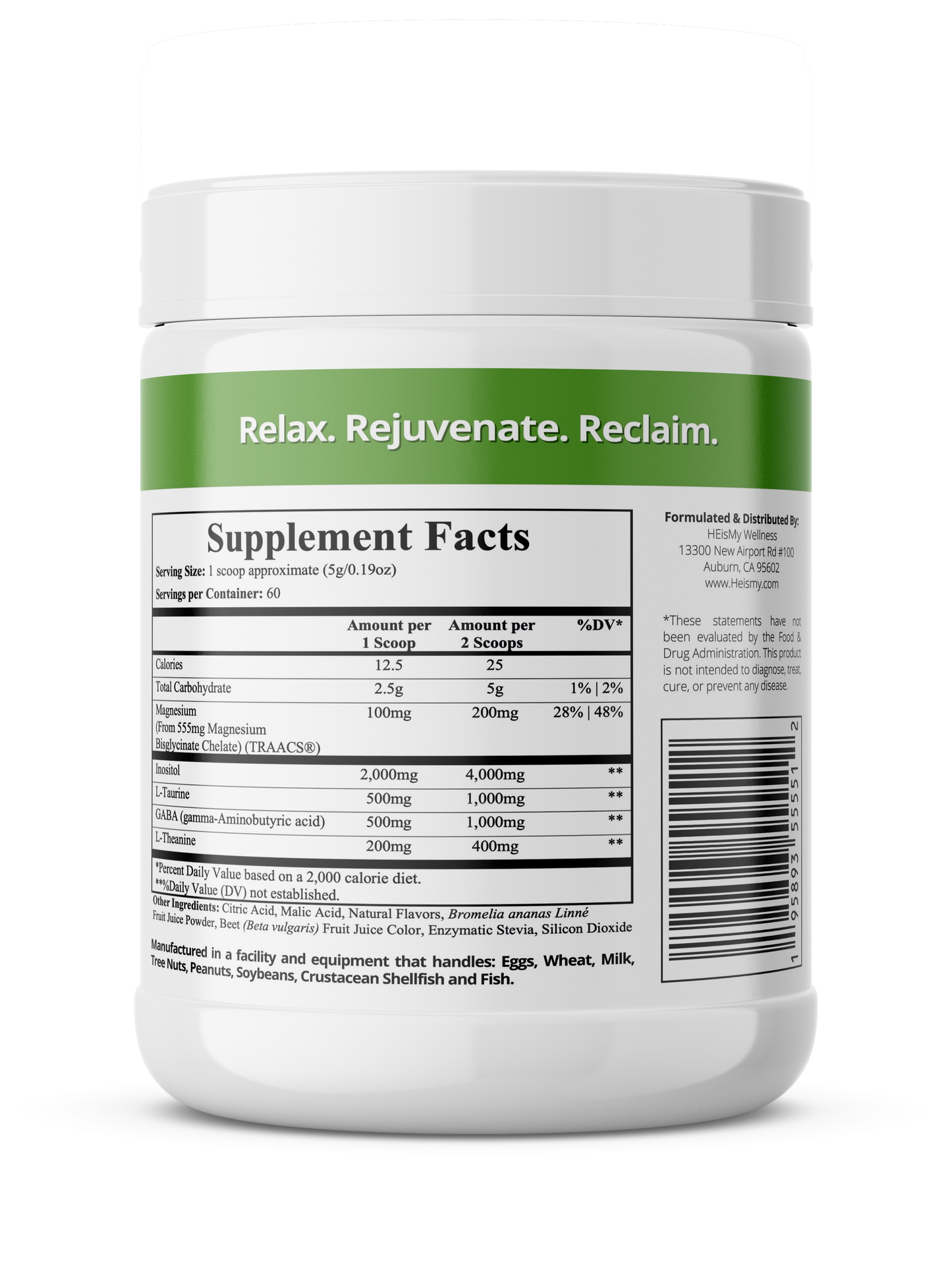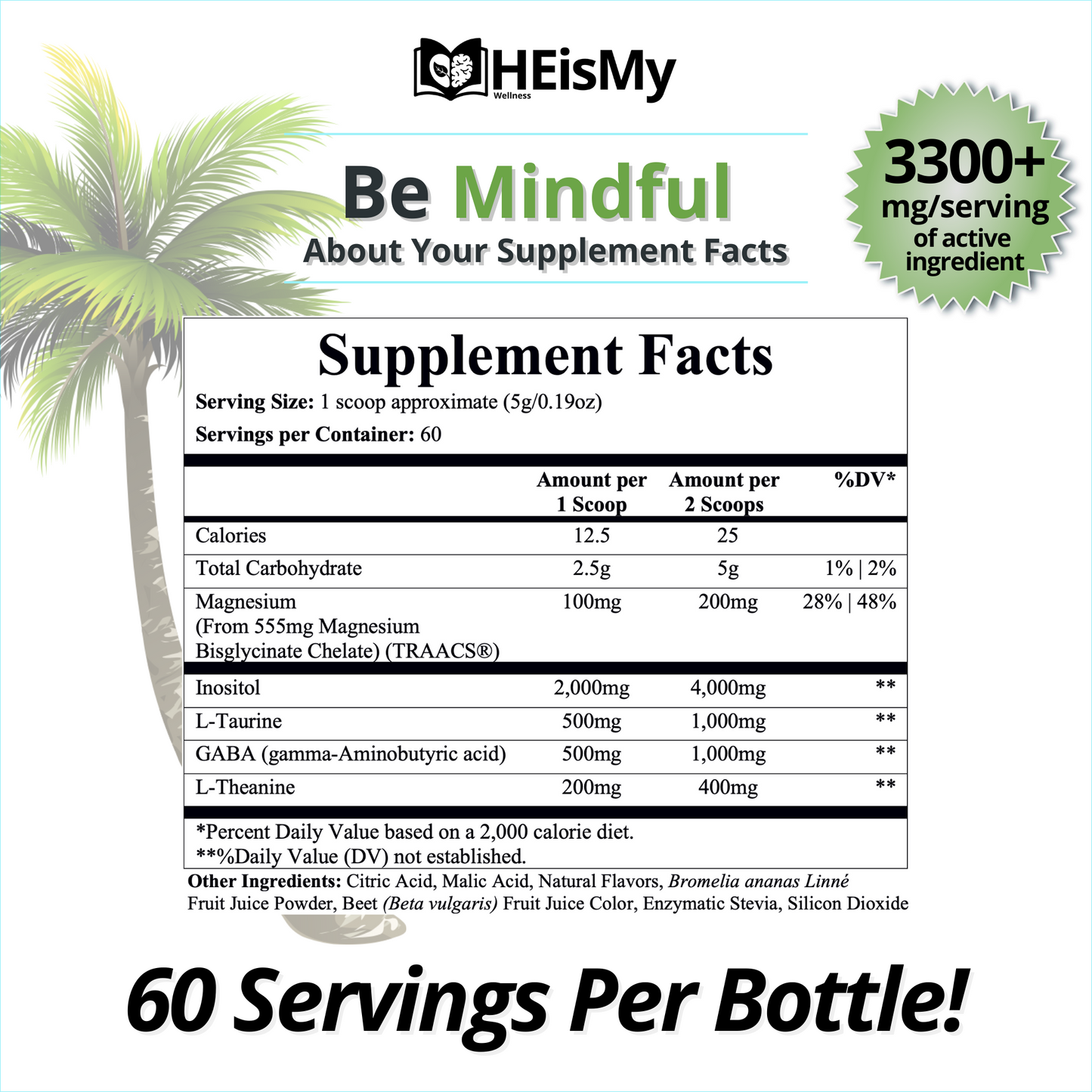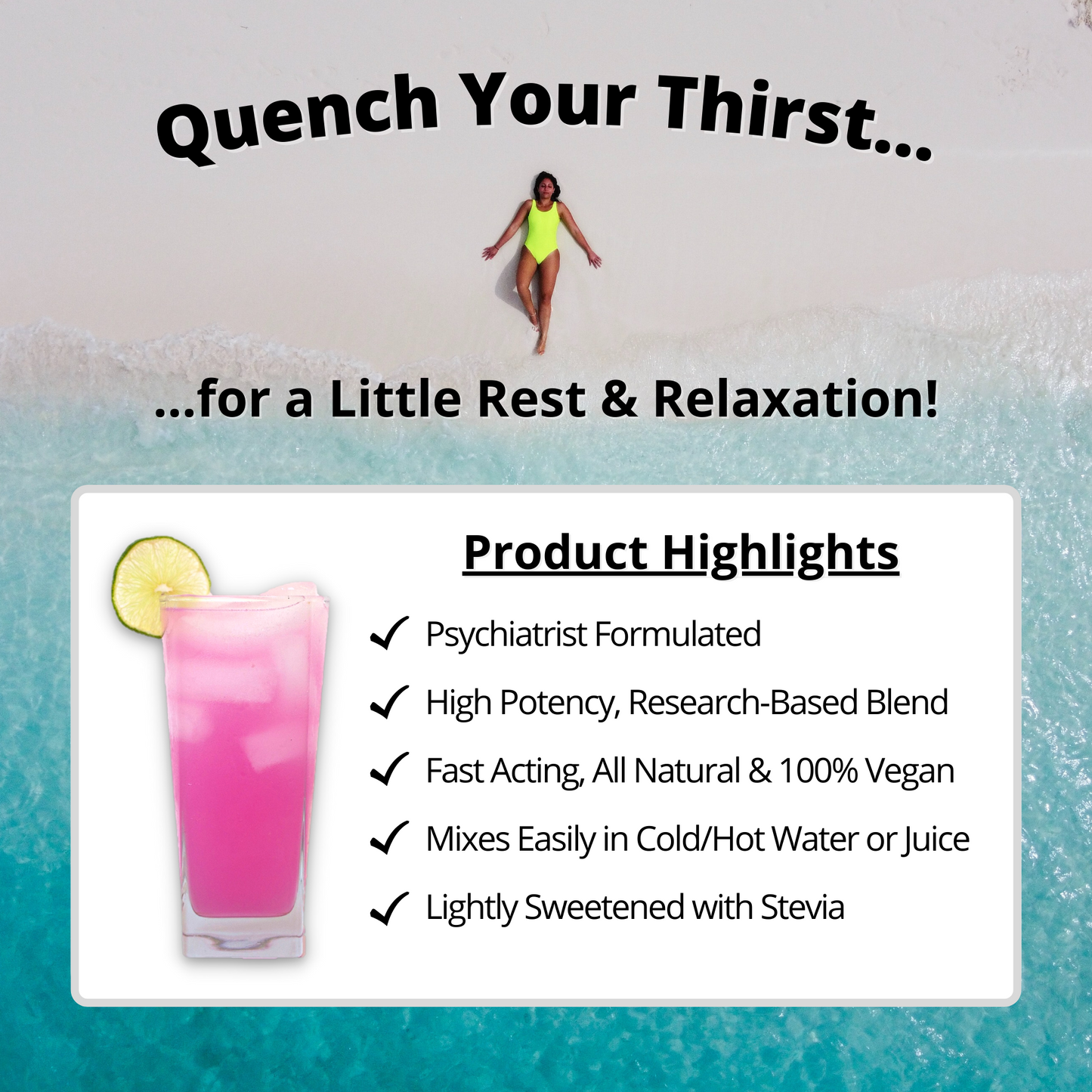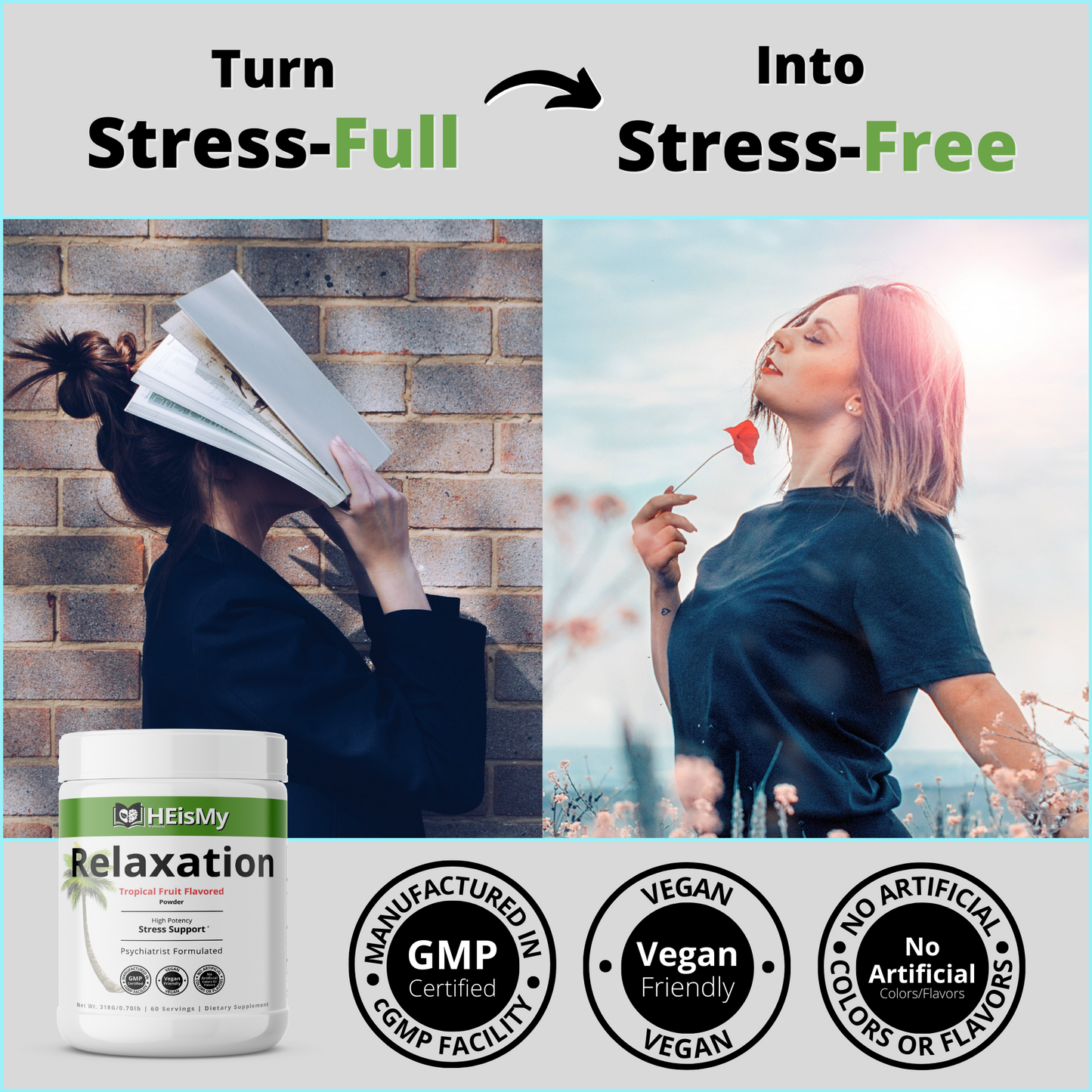 The Brain People Podcast: 055 | What is in HEisMY Relaxation & is it Effective?
FAQs
What ingredients are in the "Relaxation" formula?

Each serving contains approximately 555mg of TRAACS magnesium bisglycinate (100mg of elemental magnesium & 455mg of Glycine), 2000mg of inositol, 200mg of L-Theanine, 500mg of GABA, and 500mg of L-Taurine.
How long does it take to feel an effect?

Though most people feel a calming effect within an hour of consuming MindFull Relaxation, the full benefits of all the ingredients, like inositol or magnesium glycinate, can take up to 4 weeks to take full effect. ‍
Can "Relaxation" be taken concurrently prescription medications?

In the vast majority of cases, "Relaxation" can be taken with prescription medications. However, if you are currently taking any medication or have a known medical condition, please consult with a certified healthcare professional before trying any supplement from HEisMy Wellness.
Is it safe? Does it cause any side effects?

HEisMy Relaxation is VERY safe! And for the majority of people, this product will cause little-to-no side effects. The most commonly reported side effect is stomach upset, however, this generally dissipates with consistent use. If you experience this issue, try taking 1/4-1/2 of a serving in water and sip on it slowly over a few hours during the day. You may increase the dose slowly each day (up to maximum of 2 scoops daily) over a period of 2-4 weeks.

Also, as a general rule, if you develop any serious side effects, please discontinue the offending product immediately and speak with your personal healthcare provider. 
Is it recommended for children or pregnant women?

HEisMy Relaxation was NOT designed with the intent to be used for children or pregnant women. We HIGHLY recommend speaking to your healthcare prescriber before considering to use this product.
Is it vegan? Gluten-free? Dairy-free? Nut-free?

The formula was designed to be vegan, gluten-free, dairy-free and nut-free. However, it is important to note that our product was processed in a facility that manufactures and processes eggs, wheat, dairy products, nuts, soybeans and seafood.
Where are you located, and where do your products come from?

We are based in Auburn, California. All of HEisMy Wellness' products are manufactured in the United States by a GMP-certified facility and tested by a third party. Our ingredients are sourced from a variety of countries.
Meet the Team
Dr. Daniel Binus, Psychiatrist

Jonathan Edens, Psychiatric PA-C
Our Core Values
RESEARCH BACKED FORMULAS

We will focus on using only the most clinically effective ingredients available at research recommended dosages.

INTEGRITY IN OUR BUSINESS PRACTICES

We will treat our customers the way we would wish to be treated.

VALUE IN OUR PROPOSITION

With our products, we aim to find the sweet spot between effectiveness, tolerability, quality, and affordability.

BRAND AUTHORITY

Via our website, social media platforms, and sister companies (Beautiful Minds Medical & Beautiful Minds Wellness), we offer a variety of educational resources, products and services to promote the mental wellbeing of our customers.
BeutifulMindsLabs.com has changed to HEisMy.com
Learn About Name Change Here
HEisMy Wellness consists of team of mental health professionals that practice from the premise that every mind is beautiful and therefore deserves to be nourished with the best ingredients! As such, we are dedicated to providing you with pure and potent, medical-grade supplements designed to optimize your mental health.